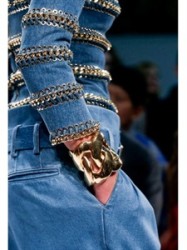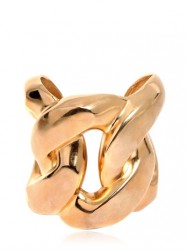 Our latest must-have obsession is from one of our favorite places….France. We're totally loving Balmain's 24k gold plated brass OVERSIZE statement cuff! Not only stunning and chic but a major piece all on it's on. So much for the rows of arm candy and beaded bracelets…which we're tired of anyway. Balmain's cuff is a definite "stand-alone" piece.
Although the cuff is large in scale it's more than wearable and looks great paired with Balmain's Suede Denim Bonded Top as shown here. In other words….we're dying to own!
The biggest reason to indulge Balmain's cuff…it's a fabulous piece that can be worn for years to come. It's actually a modern version of the old style gold link bracelet. Perfect for daytime or evening…casual or dressy. The cuff offers everything we love in a bracelet…elegant, modern and super stylish. Click the link to indulge and pre-order now!