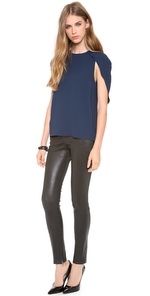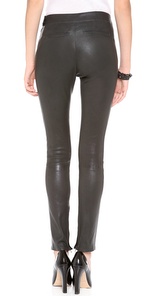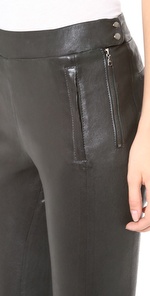 The past four years leather leggings have become the go-to-staple. They've pretty much replaced the old trouser pant. While it's still nice to have some wool trousers in your wardrobe…leather leggings have become a must-have. Many of them are oh-so pricey. (Balmain, The Row, Balenciaga) We just looked at J Brand's leather leggings in their relatively new Ready-to-Wear Collection. Their stretch leather leggings are made of lambskin, feature zip front pockets, welt back pockets and seamed detailing at the knees. Leather leggings pair perfectly with an oversized cashmere sweater, a blazer, moto jacket or blouse and of course, 3.1 Phillip Lim Quill Cutout Velvet Booties.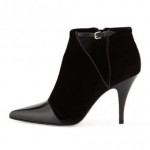 The possibilities with leather leggings are endless. While these leggings are outrageously priced, the leather leggings from the J Brand Jean Collection which also fit the bill…(no pun intended) are half the price and also 100% lambskin. We actually like the simplicity of this pair better. Great look for the holiday especially when paired with the J Brand Signe Sweater with the metal zips at each shoulder. 
Click the link to indulge J Brand leather leggings and Phillip Lim.
 Great investment!