Carole Shashona's collection of trinket-rich bracelets is fun and funky — much like The Knack's hit song (of similar name) "My Sharona."
Today, we're going to explore three choice treasures from Carol Shashona's catalogue:
The black diamond and camel bone Empower Bracelet;
The tiger's eye and black diamond Goddess Diana bracelet;
Last, but certainly not least, the malachite and black diamond Goddess Aphrodite bracelet.
These splendid treats are great for everyday wearing, and you can stack them for a trendy look.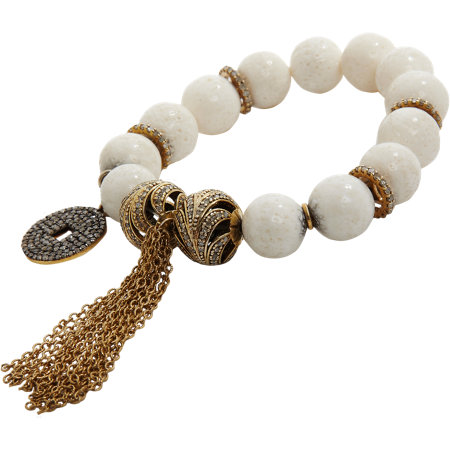 The black diamond camel bone bracelet features handcrafted camel bone beads, micro-pave diamond rondelles, two gold filigree beads, and a gold tassel. Black pave diamonds spell out the universal "god sound" of "OM" – a common meditative mantra. This scintillating 4.4 karat fashion concoction looks almost like something Indiana Jones might have plucked from the floor of an ancient Babylonian temple – a treasure fit for aristocrats of yore.
Click here to get the Carole Shashona Black Diamond & Camel Bone Empower Bracelet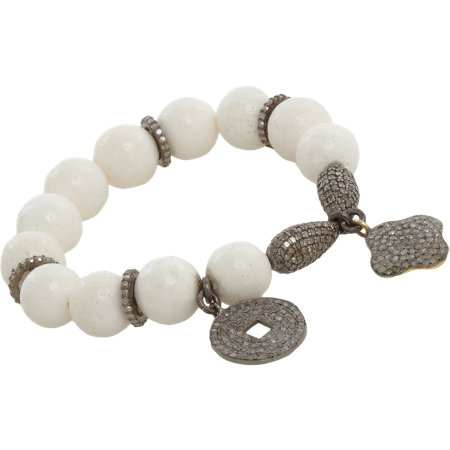 The "Goddess Diana" bracelet also features black diamond rondelles and black diamond accent beads along with tiger's eye beads. Weighing in at a hefty 4.63 CTW, this handcrafted bracelet features deco-inspired accent beads and a sturdy cord (a good thing, too – you don't want the cord to snap and spill the tiger's eyes and diamond rondelles everywhere. Imagine if that happened on an airplane – you'd have to scour the seat pockets and under the seats looking for the beads. Not much fun!)
Click here to get the Carole Shashona Camel Bone & Black Diamond Metal Essence Lotus Bracelet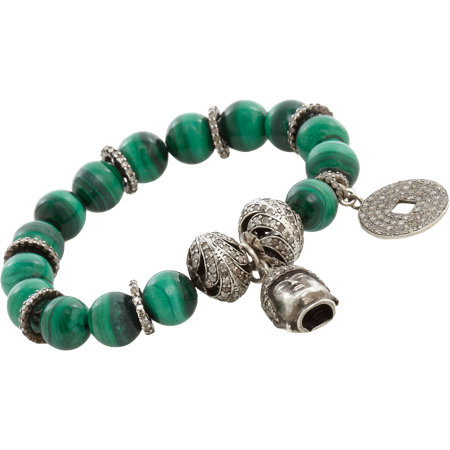 Lastly, let's examine the "Goddess Aphrodite" bracelet, which features malachite and black diamond rondelles. Like the other two bracelets, the Goddess Aphrodite features the word "OM" etched with black pave diamonds. The deep cool green hues of the malachite recall other worldly colors, like the atmospheres of the distant planets, Uranus and Neptune. (The Goddess Diana bracelet, meanwhile, features swirling effervescent ambers that recall Jupiter's thunderous clouds; while the simple camel bone beads of the Empower bracelet mimic the ghostly full moon.)
These bracelets have the sartorial power to turn the everyday into the exotic and extraordinary. Check them out today and treat yourself to an aristocratic treasure.
Click here to get the Carole Shashona Malachite & Black Diamond Goddess Aphrodite Bracelet