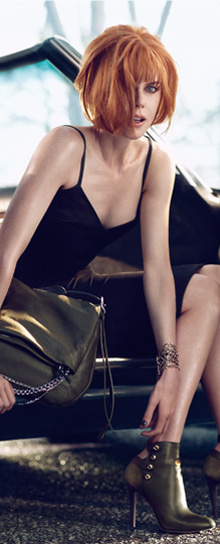 Jimmy Choo's Military Autumn Winter 13 line of boots, bags, accessories, and other trinkets has been getting tons of buzz from the fashionista community. It's easy to see why.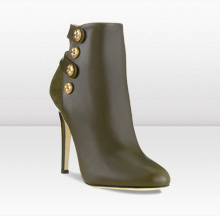 For instance, take the Talma, a military calf and suede ankle boot that features fine suede back detailing and calf leather, bedecked with regimental star studs and double straps. (These ankle boots look familiar? You might have seen them on Nicole Kidman in a recent ad campaign).
Or… there's Dylan — Military Suede Shearling Platform Biker Boots. These sexy, charming boots feature a chunky platform and stacked heel. Word to the wise, though: it's probably best not to rake leaves in these boots, or you'll get stuck ankle-deep in the mud.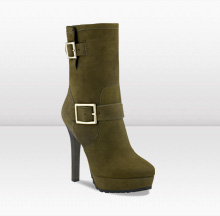 Another fantastic addition to the Jimmy Choo fall lineup is the Biker L, a Military Biker Leather Shoulder Bag. Spacious and diverse, you can strap it across your body or shoulder. It features a trio of chains for a nice "clinkity-clink" look and feel. (Celeb alert! This bag ALSO graced the shoulder of none other than Nicole Kidman in a recent Jimmy Choo ad campaign.)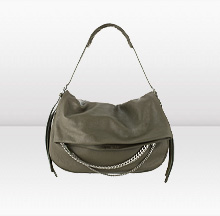 Of course, fall need not be rough and tumble.
Consider, for instance, Abel — Black Patent and Military Suede Pointy Toe Pumps. This deliciously dangerous stiletto pump juxtaposes black patent dégradé and khaki suede.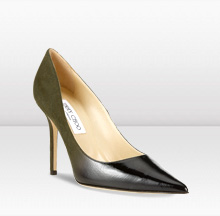 Another sexy-strong choice is the Vamp — muted khaki military suede platform sandals. Ideal for evenings out, fall award shows or upscale Halloween parties.
Perhaps most intriguing are the studded Wheel and Tokyo shoes. The Tokyo military suede sneakers with studs feature a cashmere knit and khaki suede material – awesome for kicking around on the weekend. The Wheel military suede slippers with studs is another edgy choice — both casual and urban.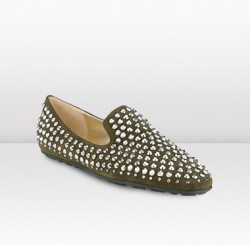 Autumn is a time both of order and rebellion – it's the perfect season to explore and celebrate military heritage, sartorially. Inject life and structure into your wardrobe by exploring these fascinating Jimmy Choo originals. Click the link to indulge!