Fall fast approaches, and nippy, icy winter is not far behind. So what stylish protection do you have against the elements?
The following three coats do a yeomen's job of beating back the briskness of autumn and the bite of winter: Saint Laurent's Military Coat, Rick Owens' Funnel Neck Long Coat, and The Row's Barth Coat. All distinct and distinguished coats offer breathtaking simplicity… mixed with saucy flair and style. Let's take a gander at their specs, one by one.
The Barth Coat (one of the greatest names for a coat I've ever seen).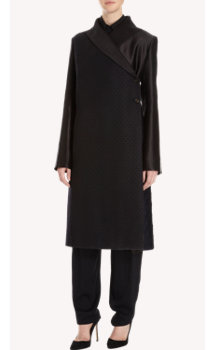 The brainchild of none other than Mary Kate and Ashley Olsen, the Barth Coat features satin sleeves and high peak lapels. It's made of a delicious wool blend and patterned with a complex jacquard knit. The Olsen twins' luxe lineup of fashion treats feature stylistic elements that juxtapose eastern and western traditions. For instance, kimono and origami-inspired designs crash against a more modern Western European aesthetic.
The Barth Coat looks a bit like something a high ranking queen or female general might wear in a science fiction movie, set in the not so near future.
Rick Owens Funnel Neck Long Coat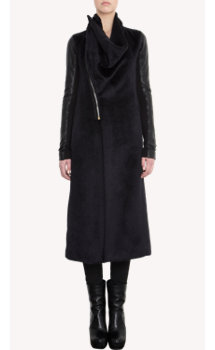 This splendid Rick Owens coat features baby alpaca blended material and a fancy funnel collar — a stylish way to protect against shearing wind and cold. Italian-made and leather sleeved with an asymmetric zip front, this coat looks almost primitive. It recalls what a Paleolithic woman might wear if she had had really, really good tailor. It's also a very sensual, featuring baby alpaca, wool and lamb skin materials. Yum.
Saint Laurent Military Coat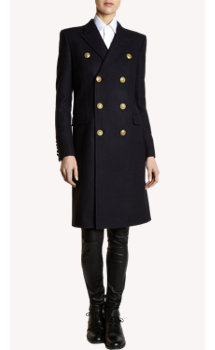 Lastly — and certainly not leastly — consider the Saint Laurent Military Coat. This French navy-made, double-breasted wool coat features flap pockets, notched lapels and a very handsome cut. It's decidedly French. Do you have the right savoir faire and panache to pull it off? (Sorry, had to throw in two French terms there!).
A simple, elegant black winter weather coat should be in every woman's wardrobe. Now is the time to shop, before the holiday season kicks in and prices inflate. So indulge and enjoy!