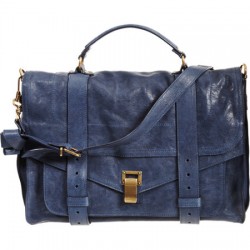 I've written about Proenza Schouler's PS1 bag more times than I can count and I always say…the RIGHT handbag can make you feel great! I was lucky enough to be handed down the grey suede PS1 by my daughter who discarded it as she moved on to the next "it" bag. I've over-used her bag and totally ready for a new version. The midnight blue leather PS1 large satchel really caught my eye. My obsession runs deep with a bag that looks vintagey and worn in with it's own story to tell…where it's been, conversations it's overheard and chairs it's been hung on, purchases it's seen and so on. If only handbags could talk!
The PS1 large tote exudes a combination of cool, briefcase chic and what has now become a classic style. The more worn in the better it looks.The midnight blue color is perfect for everyday and especially looks ultra cool with Proenza's PS-J2 Skinny Jeans and their Neoprene Pocket T-Shirt in optic white. The soft leather satchel features a flap front with a metal fold-over closure, leather pull-tab straps and zipper pocket at the exterior back. Very roomy bag.
Although there are two carrying options we'd use the detachable/adjustable shoulder strap rather than the top handle. We love the bag worn cross body, hanging just so from your shoulder. The bag is a tad bit heavy but then so is The Birkin! We've learned to live with heavy but if you carry as a cross-body it's not so bad! Click the link to indulge Proenza.