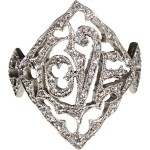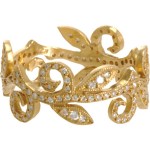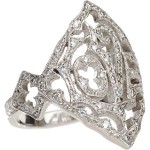 Close your eyes and picture the most exquisite diamond band or love ring you can think of. Let your imagination run wild. Even if you're blessed with a fertile imagination, your wildest dreams might not be too far removed from Cathy Waterman's Diamond & Platinum Love Ring and Diamond Thorn Leaf Band. Blogging about these gorgeous pieces probably cannot entirely dignify their splendor, but we've got to try!
Here we go:
Picture yourself at a royal court back in Victorian times, meeting countesses and other royalty from all over Europe. Check out their jewelry: all the scintillating treasures made of sapphires, rubies, gold, silver, turquoise. Now imagine that the crowd parts. You see a gorgeous woman, who somehow stands out even in this crowd. She's bedecked in the finest, most fashionable raiments of the days.
Look closely at her hands: What's THAT she's wearing?
It just might be the predecessor to Cathy Waterman's Diamond & Platinum Love Ring, which features a platinum-coined edge and the word "LOVE" ornamentally written in pave diamonds. The leaf-like, sensual engraving, and the subtle heart shapes that appear when you look at the ring through different perspectives, all bring to mind effortless affluence. There's a kind of theatricality to the ring that recalls a Baz Luhrmann film.
The subtleties impress, too.  Like how the word "LOVE" disappears when you look at the ring from different angles. Or how the "V" in the word "LOVE" almost looks like a heart… or perhaps a harp you might hear strummed at a royal court.
What could be better?
Well, perhaps Cathy Waterman's Diamond Thorn Leaf Band, which features a plethora of pave diamonds and gold swirled thorn leaf. At first blush, the band almost looks like a crown for the queen of the nymphets – a perfect miniature. It's full of curls and curves. It's easy to appreciate the ring at first glance, but the artistry keeps giving. As you explore it, you grow to appreciate its subtleties and the fine detail work. Whether you're looking for a special way to say "I love you" to the woman of your dreams, or you're treating yourself for selling your company or reaching a huge life milestone, it may just be time to indulge in one of Cathy Waterman's wonderful treasures. Click the link to indulge!