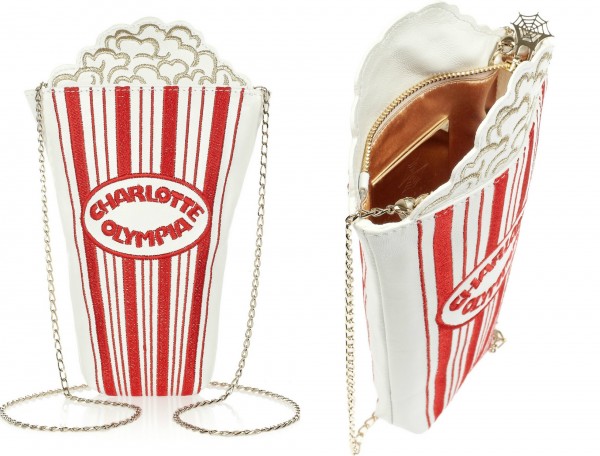 It's movie night! Are you ready to take calorie free popcorn to the movies without butter? We are! We're totally enjoying Charlotte Olmypia's whimsical eye-catching Movie Night Embroidered Leather Bag. That's not surprising since we love and own her Kitty Flats. Charlotte's accessories are quickly becoming recognized on celebs, models and ordinary people…like me! Her playful accessories compliment any outfit.
This is the perfect bag for movie night or any fun-filled evening. We'd pair this exciting bag of calorie-free popcorn with bright red lips and white skinny jeans with a bright red or white cashmere sweater or pair with J Brand leggings and Zanotti shoes as seen below. The bag is so unique that it's timeless and will never go out of style. You may get a few…what the eff is she carrying? Who cares…we think it's totally cool. We keep saying…summer is for light hearted fun bags! Who wants to carry a serious heavy leather bag on a hot summer eve?
Click here to treat yourself to this bag! You can also purchase the leggings and shoes, too!