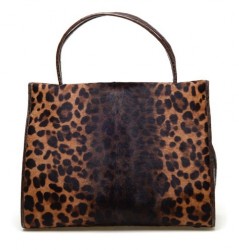 You may be soft and feminine on the outside. But on the inside beats the cold heart of a predator. At least that's how you feel, occasionally. Our ability to dominate other forms of life, quite frankly, is breathtaking. Animal rights activists' protests notwithstanding, to the victor goes the spoils. And what spoils those can be! Consider these two glorious Nancy Gonzalez bags:
•  A Crocodile & Mink Medium Satchel with double top handles, magnetic top closure, three inner compartments, suede lining, and protective self-covered feet;
•  And a Leopard Print Haircalf Tote, featuring glossy crocodile trim, suede lining, and luxurious animal printed material.
Let's review these bags one at a time.
The Crocodile & Mink bag is devilishly elegant. Much like how chocolate pairs so well with peanut butter; so, too, does mink pair amazingly with crocodile skin. Who knew? Maybe it's the silvery slippery blackness of the crocodile skin juxtaposed against the feather-light plush brown furriness of the mink. Maybe it's that the crocodile is the perfect predator, while the mink is the perfect prey.
Whatever the case, this bag could only belong to a creature who somehow managed to "move beyond" being either predator or prey – who has become almost God-like, in fact.The Leopard Print Haircalf Tote is also an exquisite creation, if not a hair more subtle. Also Italian made, with blended coloration, the bag evokes classical elegance. One reviewer at Saks.com summed up the situation plainly: "This bag is absolutely beautiful. Perfect for day or casual evening."
If you haven't completed your fall bag shopping… first of all, shame on you! But second of all, now you have two good options. For some women, these bags may represent a serious "splurge." But remember that such satchels can last a lifetime or longer, and they can even serve as heirlooms to pass on to your daughter (or daughter-in-law). So go grab YOUR favorite goody bag!