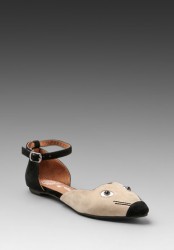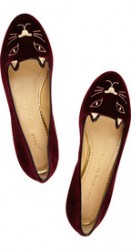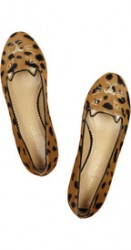 Many of our readers emailed us about the price of Charlotte Olmypia's very stylish and expensive Kitty Flats. So I started to peruse the Net and found Jeffrey Campbell's Eyes Flat in Black Suede/Nude Suede for much less. (featured above) I think they're the purrrrfect copy!
Typically, Jeffrey Campbell's shoes are so over-the-top bizarre that I usually write about just that. I find many of his shoes unbalanced looking and extremely difficult to wear given the exaggerated platforms. That being said…I think his kitty flats are very sharp and share the same look as Charlotte Olmpia's which are around $700.00. Campbell's flats are priced reasonably at $106.00. We'd pair with J Brand's Mid Rise Crop Capri in Ventura or AG Adriano Golschmied's Legging Ankle Jeans for a totally fun look.
While I own Olympia's flats…I wish I had seen these first. I definitely would have purchased Campbells! AFGG doesn't usually feature "looks for less" but I felt the need in this case as I had numerous emails about
the real thing.
Campbell's shoes are affordable, fun and fashionable. If I were you…I'd
click the link
to shop these very cool kitty flats, J Brand and AG Jeans. Of course, if you want
the real thing
click the link to indulge

!
We tried to get you to buy the "look for less".