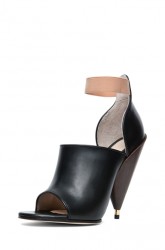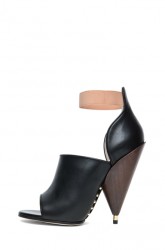 My Givenchy shoe post has been in draft for the last few weeks. I've been debating….is this shoe cool, "sheer genius" or beyond weird. Then it's featured in the New York Times Style Section last Sunday. Now, I know it's weird but strangely it's grown on me almost to the point of buying a pair. Well I'm not totally sold yet and it's extremely pricey to boot! (no pun intended) Obviously, I've decided to share the Dunka and it's head on orthopedic look.
The Dunka sandal is both whimsical and funky with great attention to detail. It's made of black calfskin leather, features a 5 inch wooden heel with a stylish peep toe and elastic ankle strap. It's definitely not for everyone. The heel does resemble a doorstop but in a playful manner.
If you're craving Givenchy's Dunka sandal with the wooden heel then you should go for it! Givenchy has truly upped their game in the last few years with a younger and hipper appeal. Click the link to indulge Givenchy's latest heel.