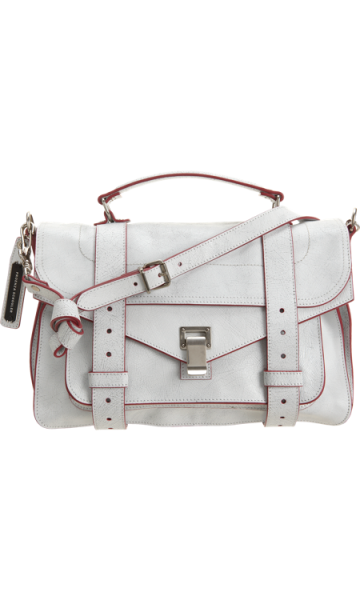 A few months ago I shared with you that my daughter kindly gave me her grey suede Proenza Schouler PS1 bag that I'd been eyeing for awhile. What a generous hand-me-down! In all fairness she was moving on to a Celine bag with wings. (I'm waiting in the "wings" for that but it make take awhile) I'm so lucky we share the same taste!
However, I'm impatient and don't feel like waiting. So, I'm now ready to purchase my own bag…..Proenza's PS1 Crackle Satchel and as I've recently stated I'm ready for a white bag! Yes, I'm nervous about making a mess out of it but I'm going to try and be careful. I think the textured/crackled leather will help!
I've had so many black bags and feel the need to clutch this "gumdrop" in white. Acid yellow is another of my fave's. The bag can be worn cross body, hanging just so from your shoulder or carried by the top handle. The red trim really makes the white bag pop with the aged silver tone hardware. Click the link to indulge Proenza's latest. The perfect bag for spring and summer paired with Alexander Wang's asymmetric merino wool sweater and Isabel Marant's Sid printed cotton-voile pants.