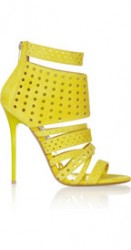 Caution…these strikingly trendy and sexy sandals are bolder than a yellow traffic signal. Are you ready to "heel up" in Jimmy Choo's electrfying chartreuse Malika sandals? We're ready especially since this vibrant color was such a huge hit on the runways.How perfect is this sandal to PIZZAZZ a simple all black or white outfit? Looks great with prints, too!
This strappy sandal features perforated cut-outs, a very high stiletto heel and multi straps. Jimmy Choo's designers are always right on the money keeping up with the latest trends, colors and stylish designs.Their great attention to detail makes these sandals a must-have for resort, vacations, spring, summer and more!
If you're like us…you're probably done buying winter and on to resort-wear. Click the link to indulge these electrifying sandals. We're sure we won't be able to take more than a single step in these shoes….but as you know…that doesn't stop us from buying a shoe we must own!