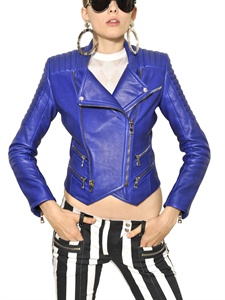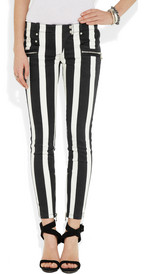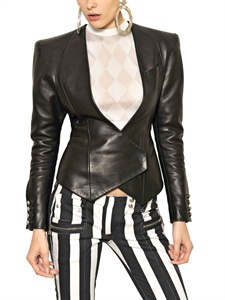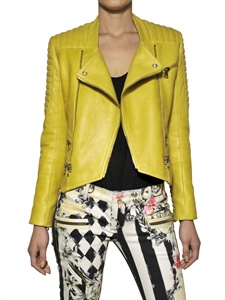 We love all things "new, trendy and striking" that's why we're sharing Balmain's striped skinny jeans. We're oh-so tired of every shade of blue denim.These bold jeans are packed with PIZZAZZ and a lot of design. Stripes are huge for spring…just look at our Facebook page featuring Marc Jacob's stylish "striped" fashion show.There's nothing new or special about stripes…it's all in the presentation.These black and white striped jeans with just enough stretch to accent the fit are fabulous.The stretch allows you to jump into the jeans easier. (if you've been known to jump around the room trying to get your jeans on then you know what we're talking about!) Anyway, the collection is "rockin" so be sure to take a look when clicking the purple link.
Stripes aren't just for "doing time" anymore!!!! Pair striped jeans with a black or white top and black or white sandals for a simply chic look.These jeans can be glammed up or down…worn with Balmain's patent leather pumps or converse sneakers, Balmain's long sleeved black jersey or a simple cashmere sweater, Balmain's cotton purple gaberdine blazer or a  bright cardigan, Balmain's silver plaque striped clutch or an oversized tote…you get the picture. Balmain's purple or yellow Biker Nappa Leather Jacket would be so cool with these striped jeans…but you may need to take out a bank loan to own. Pricey Jacket! Pricey Jeans! Whoa!
Just click the link to over-indulge all these incredible pieces and options.