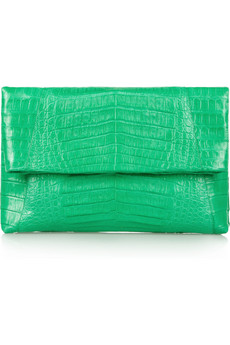 A few weeks ago we shared Pantone's official hot color for spring 2013…emerald green. Doesn't mean you have to wait til spring to wear this exciting color. Why not start wearing this must-have color now…especially to brighten up a boring black outfit on a dreary winter day?
Nancy Gonzalez's latest bright jade crocodile fold-over clutch is the perfect choice to use today or on your latest vacay to the Caribbean. The color is truly yummy like our green gumdrops! The clutch is also available in bright orange.
Pair Gonzalez's bright green clutch with Emilio Pucci's low-rise flared white jeans and and Alexander Wang's draped stretch sateen jersey top. This bright green clutch can be worn casual or dressy and adds instant glamour to any outfit. It's the perfect accessory! This simple shaped clutch can be carried easily under your arm and is certainly big enough to hold all your essentials. Nancy's skin bags are always timeless whether in coral, turquoise, silver or black. Click the link to indulge! Gonzalez, Wang and Pucci.