Ready for a fabulous bag to ruffle your feathers? We have the perfect fantasy bag filled with ostrich feathers to perch right on your shoulder.This super eye catching bag features black Artemis leather and black feathers galore tipped with bold colors.This is the most spectacular holiday bag. No need to ruffle any feathers….you'll be the life of the party. Fabulous accent piece to any ensemble.
It's always fun to have a smashing bag that's glamorous and oh-so chic.
Click the link to indulge
Christian Louboutin's hottest bag of the season. Yes, it's pricey…but you'll definitely won't see yourself coming and going in this festive bag! FYI
…
you can remove the feather strap if you are going to a simple dinner or luncheon engagement.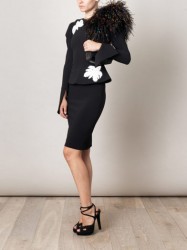 Works great on a one shoulder dress, bare shoulder, suit jacket, sweater and party dress…just to name a few.There's plenty of room in this bag for all your goodies, glosses, lip liners, eyelash glue and more. You can count on AFGG to find the most unique pieces!