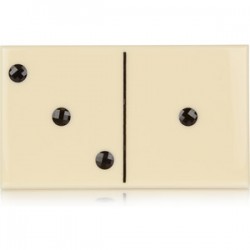 Sadly, when most people these days think of dominos, they imagine fresh hot pizza…or perhaps a boring afternoon of games with a great uncle. But the aesthetics of a Domino piece–simple black dots on a white surface–can be gorgeous. Enter Charlotte Olympia's Domino Pandora Perspex clutch, a playful British creation built from cream perspex and black Swarovski crystals, held together with a concealed magnetic fastening device at the top.
The bag looks just like a blown up Domino's piece. So cute! But the clutch is by no means trivial. It will subtly suggest certain personality traits. For instance:
• "Well organized."
The sleek, compact design – white and black coloration, lack of ornamentation – suggests clarity.
• "You enjoy serious fun and games."
Their plaints to the contrary, gentlemen find strategically minded women intriguing. Even if you've never played dominos – and you hate games in real life – this bag will give you an intellectual patina. Not in a nerdy way either but rather in a sexy-smart way, like a James Bond heroine/villain.
• "You are daring."
Dominos is a game of chance. To succeed, you need to have both brains and guts–a willingness to leave your comfort zone and take chances to win big.This clutch suggests that you're willing to go all the way, if necessary, to get what you want.Whether or not the clutch actually can imbue you with those personality traits or not – hey, at least it's a cool, fun bag! It's perfect as an accessory for simple/elegant outfit, like a racy black cocktail dress. Click the link to indulge!