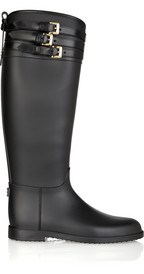 Why not look ultra chic in the rain with high styled rain boots! One of our favorite's is Burberry's Buckled rubber boots. How many pairs of shoes have you ruined in the rain? If you've ruined a few pairs like us then it's time to invest in a pair of stylish rain boots. Burberry's boots combine the look of style and comfort. They're like walking in flip flops only your toes don't get soaked. I wish all my boots were as comfortable and chic looking.
I have similar Burberry boots that I bought last year and wore them every time it rained and then some! I wore my tall black rubber rain boots with leggings, a cute Stella McCartney trench and my old trusty LV umbrella. Just because it's raining we can still look chic…right? The boot features decorative gold buckles and retails for $375. That maybe pricey for rain boots but…these are timeless (phew) and you'll wear them for seasons to come. They're simple black boots with minimal detailing, they're easy to wear and perfect for a day that's drizzling or pouring. Click the link to keep your toes dry! They never get messy looking….cuz you can wash them right off.
Gucci's makes a very stylish rain boot in black called the Brogue-style rubber Wellington boots. They look fabulous paired with a skirt and tights or leggings. You may end up wearing them more often as they look like riding boots and fit great. (honestly…they are more comfortable than leather boots)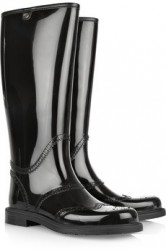 The Original Tall Gloss Hunter Wellie is also a fabulous option for the rain and less pricey and does the trick. ((You can buy warm inserts for the Hunter Wellies) Be sure to check out the fashionable selection of Hunter Wellie colors. You may just opt for a fun color like purple and start "singing in the rain" or jumping in puddles  Which ever pair of rain boots you choose…it's fashionable to wear tall rubber boots in the rain, the cold weather or in the slushy snow. Click the purple links to stay dry!