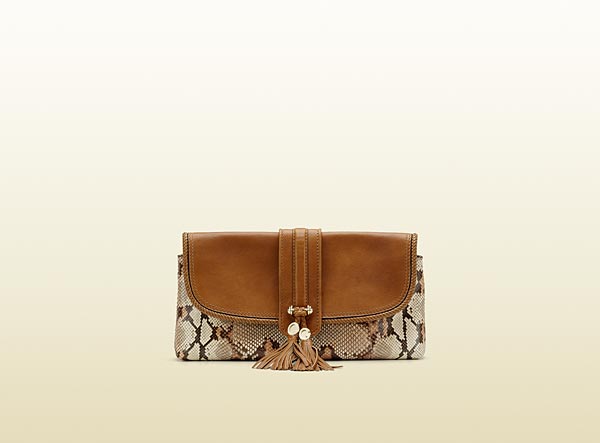 When you create a woven leather trim and tasseled clutch out of a python, you're playing with fire – metaphorically speaking, at least.
Many designers – even top caliber people who work for the most respected brands in Europe – have been "snake bitten," so to speak, in that they've misused snakeskin material to awful effect. In their defense, such mistakes are easy to make. Python is a notoriously tricky material to leverage, both in terms of its texture and its aesthetic.
This should come as no surprise. After all, snakes fascinate us, but they also repel us. It takes skill to capture that essence — of danger, strength, subtle ferociousness, even sexiness — without going overboard or getting too gaudy or even getting too macabre.
Fortunately, the team at Gucci was more than up to this challenging proposition, as evidenced by Gucci's fabulous new Marrakech clutch with metal detailing, gold hardware, leather lining, and camel brown leather trim. The honey-colored python material is subtle and sexy. As you scrutinize the clutch, you become more and more aware of the precision craftsmanship — the way the leather and python materials support one another to create a luxe effect.
It's phenomenal how well this clutch captures the Gucci brand. Can't you just picture the classic Gucci female model with the pursed lips, a stern/mysterious expression, thin body, sexy appearance, et cetera, clutching this clutch under her arm?
That this bag screams "Gucci" is a testament both to the precision of the designers and to Gucci's marketing team. You don't necessarily NEED a luxury clutch like this to accessorize, but owning one sure can feel wonderful. It's truly the embodiment of an elusive (but ultimately attainable) fantasy of graduating into a higher economic stratum. Click the link to indulge!