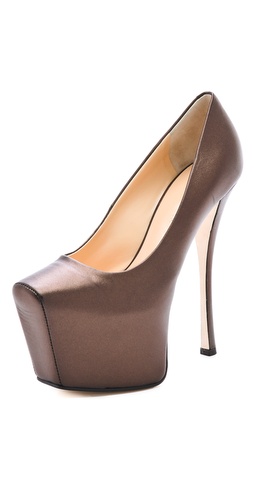 While I typically love Giuseppe Zanotti's shoes…the recent pairs I've seen are bizarre. Remember when Zanotti made those simple yet chic gladiator sandals in metallic leather? Giuseppe Zanotti's Extreme Metallic Platform Pumps with the squared off toe look like a GIGANTIC doorstop or a ginormous tap shoe. (remember the store Think Big?) Not sure why any designer thinks a shoe has to look this ridiculous be to fashion forward. This shoe looks painful. Can't you picture your toes all crunched up at the squared off toe cap with nowhere to go. Ouch!!! All I can think of is…the poor person who chooses to walk around in these.
Let's face it….I'm too old to be endangering myself in these metallic platforms and I've already had bunion surgery. Since stockings are a thing of the past…chances are the leather would be rubbing against my feet…not to mention my crunched up toes. I've always bought for style rather than comfort but there comes a time (in your life ) when comfort comes first! Yes, that's upsetting to me but I can't strut in these shoes.
They are totally out of proportion with that huge platform and a skinny heel. Looks like an ankle breaker to me. I hardly think a true fashionista on the prowl could even meet anyone in these pumps. I'm sure most men would not find these pumps sexy. I think walking would be quite a task!
(remember I said that recently about Zanotti's booties???
) What's up with Giuseppe? Are these for daytime or evening? I do love the metallic leather calfskin but that's it. This pump features a hidden platform (really????) and sculpted stiletto heel. Obviously you know my feelings on this shoe but if it's for you
click the link to indulge
. Let's hope you can make it through the night!