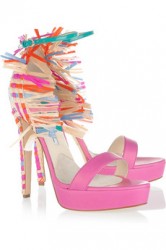 Brian Atwood's Mojito Leather & Raffia Sandals were probably designed specifically for summer or a fiesta! We especially love the colored raffia detailing on these "pretty in pink" sandals. The multi-colored raffia heel, fringed trim, aqua ankle straps and hot pink platform make these sandals a must-have for the woman who loves fun and color. These aren't for the faint of heart, though – the 4.5″ heel and 1″ platform means you really need to know how to strut your stuff in these very chic platform sandals! If you wear alot of black (like us) than it's actually fun to wear color during the summer.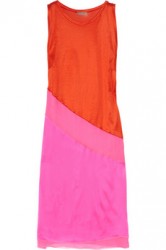 They suggest pairing these shoes with a beaded cocktail dress, but we prefer playing off the colors in the shoes with this color block number from Bottega Veneta. For a milder approach, stick with a neutral dress and simple accessories like a taupe clutch and a simple cuff bracelet.
If you're craving these hot kicks, be prepared to pay a chunk of change for the privilege of wearing these smokin' shoes – they'll set you back $1,455. Click the link to indulge, and tell us how you'd love to wear these sandals this summer!