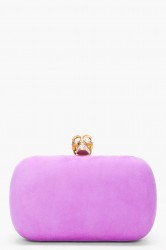 We love pieces that are both sophisticated and edgy, and this purple suede skull box clutch from Alexander Mcqueen combines the best of both worlds. While this iconic clutch may not be every woman's dream, it's definitely well-suited for the woman who likes to walk a little on the wild side.This would look killer-chic with a little black dress and heels! We love this color pairing. The gold tone trim and skull clasp add a hint of glimmer while the swarovski crystal accents on the skull catch the light beautifully. It's just large enough to hold important essentials, too, like your credit cards, cell phone and six lipsticks. (We always travel with at least six in our handbag!)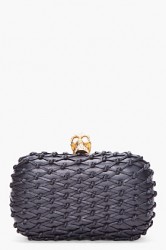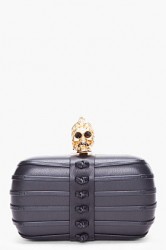 If carrying a purple clutch is too bold for you, there are several variations of this clutch to choose from.The Black Net Skull Box Clutch features tonal leather netting throughout, while the Black Shark Teeth Box Clutch features a pointed skull clasp and pebbled leather.The purple clutch will cost you a cool $1,3995, while the Black Net clutch and Black Shark Teeth clutch will cost you $2,395 and $2,295 respectively. If these prices sounds worth  it to you for an edgy and chic accessory, click the link to indulge. Which one is your favorite? Looks super cool paired with DSQUARED2 Slim Cropped Jeans. We love a rockin clutch paired at night with jeans, too!
Be sure to enter our Alexander McQueen Giveaway!