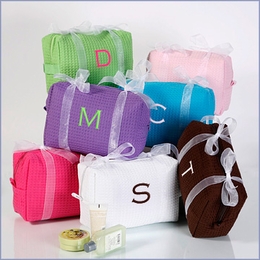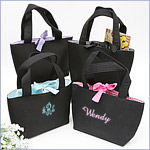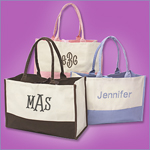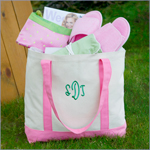 After you've said "yes" to your fiance's proposal, one of the next exciting events is choosing your bridesmaids. These are your "besties" who will share many special moments with you! They'll help plan your bachelorette party, your shower and help you choose your wedding dress and their bridesmaid dresses. We're having fun already!
Now that you've chosen your bridesmaids you'll want to pick some amazing gifts for these very special friends. Luckily, there are so many fabulous gifts to choose from. Being the ultimate fashionista "in the know" we've already hand picked some fabulous bridesmaid gifts from American Bridal . Now, we're sharing these our coveted picks with you! We always love giving a personalized gift such as a tote bag, cosmetics bag, carry-all tote, mini travel duffel bag and spa kit.What fashionista doesn't love these things, and a personalized gift is always extra special. The best part is….many of these gifts are under $20.00!
There are so many options but we've chosen four of our favorites. Here's what we're loving….the Large Cotton Waffle Embroidered Cosmetics Bag, the Personalized Gingham Bridesmaid Tote, The Monogram Black Canvas Tote and the Personalized Bridesmaid Captain Style Tote Bag….just to name a few. There are so many choices and great buys! All the styles we selected are fun and will be a fashion favorite for your "besties' for years to come. These bags are perfect for travel especially to the bachelorette weekend and the destination wedding! Although these are our top selections you may choose from so many other goodies for your bridesmaids at American Bridal!