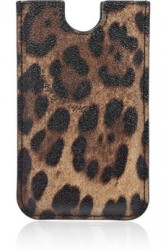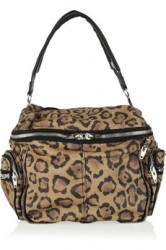 Leopard print always looks chic, so what better way to sport the trend than with this coveted Dolce & Gabbana iPhone 4 case? The sleek design is crafted of faux-textured leather with a black leather lining and will help protect your most precious accessory when you're on the go.The eye-catching design will also make it so easy to "spot" your iPhone in your bag – no more rummaging around in your purse for your cell phone! It's both functional and stylish!
Speaking of bags, why not consider a brand new handbag to tote your newly covered iPhone in? Keep the animal print vibe going with the "Jane" leopard-print leather tote from Alexandar Wang. Not only does this fierce handbag lend some serious "cool" cred to any outfit, it's also got plenty of room to store your iPhone, lip-gloss and more – and it does it in style.
If you're lusting after the Dolce & Gabanna iPhone Case, prepare to plunk down a cool $175 for the privilege of owning this awesome accessory. Who says fashion and technology can't go together? It also makes a terrific gift for the tech-savvy fashionista. Click the link to indulge and enjoy your walk on the wild side.