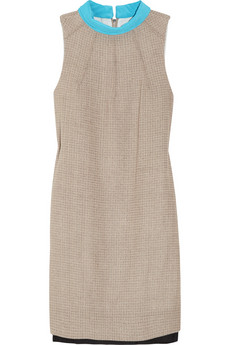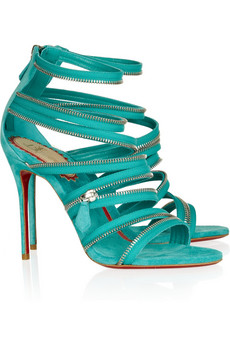 If you're loving the color turquoise this season (spring's hottest color) and you love Christian Louboutin shoes…these iconic sandals are for you!
The heel is approximately 4.5 inches.(piece of cake to walk in!!!) These sandals are part of the exclusive Capsule Collection inspired by Louboutin's designs "on the heels" of his 20th anniversary in the shoe biz. Actually, we thought his name would come up in spell check! These turquoise suede sandals add a gorgeous pop of color to any outfit.They feature silver zipper trims with the signature red soles. Glamorous and ever-so chic.
Pair with everything from Diane Von Furstenberg's fabulous Arlene Cocoon Dress (seen here) to MIH Paris mid-rise cropped white jeans. How amazing are the dress and shoes together? Paint your toe nails with Thakoon for Nars bright nail lacquers for a total "polished" look. Click the link to indulge Louboutin's 20th Anniversary Unzip Booty 100 suede sandals, MIH Jeans and DVF. We're sure you'll find many fabulous pieces to pair with your turquoise Louboutins right here!