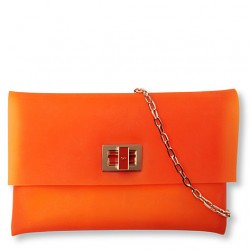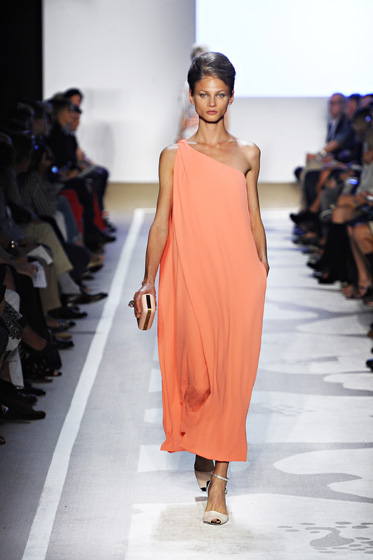 Since Pantone Universe announced "Tangerine Tango" was the color of the year, orange has been a very hot color for spring and summer – and this rubber clutch from Anya Hindmarch will help you add that pop of color to your outfit. Plus, this bag has that totally trendy shape we keep seeing everywhere. If you're drawn to bold colors but are too intimidated to pull them off, this clutch is the perfect way to play with a fun color without going overboard. It's the perfect "going out" bag. We'd pair with Diane von Furstenberg's Liluye Long Dress for a sensational look.
The bag is semi-opaque, and comes with a detachable chain strap and a turn-lock closure to help keep all of your essentials secure. If orange isn't your cup of tea, you can opt for this bag in red or light blue; all three colors are sure to "wow!" We love the bag's perky look and it's so  easy to wear as a clutch or shoulder bag.
The best part about this bag? It doesn't cost a fortune – at $395, you can afford to indulge (Hindmarch and DVF) and still have money left over for your summer vacation – this bag works great for traveling! Another plus…it's so easy to keep clean. (remember…it's rubber) Be sure to check out Hindmarch's fab handbag collection.