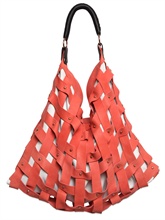 Every morning we have our coffee then hop on one of our favorite affiliate sites (Luisaviaroma) to see what's new.To put it mildly, some things we love and some we don't.This falls into the "don't" category.
(Remember Nana's Feather Mask & Alexander Wang's Football Clutch?) We'll probably hear from the designer very shortly. Almost every time we write an "unfavorable" review we get feedback from the designer or a member of their team.(which we welcome and will always share) We were all set to write about another handbag and spotted this one.
Honestly, does this look like a handbag to you? To us it looks like a placement that was made in Basket Weaving class.The woven leather is made to look vintage but doesn't.It's so casual that you could put it on your dinner table with a microwave to table place setting. Salar's Juni woven leather shoulder bag is available in other colors.Only the grey and white have the matching lining.
Why don't they all have matching linings? Get four, cut off the handles and you'll have four table mats. Here's why the bag doesn't work….it's not comfortable to use, does not look flattering on the arm, looks like a D.I.Y bag (Do It Yourself) and it certainly will not be in style next year at this time. If this bag is for you click the link to indulge. You could always use it as a pricey grocery bag. Yes, we welcome comments from the designer!