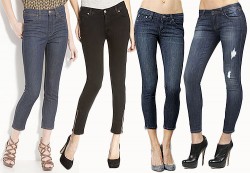 In fashion, what once was old is almost always new again shortly after, in the form of resurrected trends and updated takes on failed fads. So are you really surprised that the cropped capri-style pant would come back for another shot in the spotlight? Last spring, peg-legged pants, slouchy cropped trousers, and rolled-up boyfriend jeans gave us a taste of tomboy-inspired leg wear; this year, alternatively, denim is going sleek and straight with
cropped skinny styles
that are perfect for warmer weather ahead. Proportion-wise, this trend can be a bit tricky to pull off, especially for the majority of us who weren't blessed with endlessly slender fashion model legs, but when worn with the perfect spring-ready espadrille platforms, the added height paired with the crop style gives the illusion of an elongated, more flattering line. After all, with a higher hem, you're given more room to show off those new shoes (not to mention a little breathing room for your ankles!) and the look is slightly retro-cute with a modern spin. From left to right:
J Brand 'Kori' Cropped Skinny Leg Jeans
,
Genetic Denim Zip-Ankle 'Laurel' Jeans
,
AG The Camilla Zip 'Keller'
, and
Siwy Denim 'Hannah'
.
XOXO,