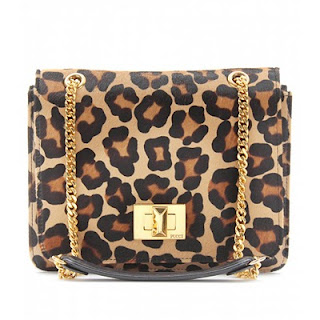 Welcome to Your Haircalf Leopard Print Shoulder Bag by Emilio Pucci
Your life has not always been easy, counter to what friends and fashion rivals might whisper behind closed doors. You have had to struggle. But you clawed your way to the top – or at least near enough to the top to recognize that it's time to stop, smell the roses, enjoy the view, and possibly treat yourself. Perhaps that treat will be Emilio Pucci's Hair Skin Leopard Print Shoulder Bag. This bag featuresblack leather padding, gold-tone hardware and chain shoulder strap, and an ornately delicious turn-lock closure. The technical name for the color is Miele – a word that probably few Americans even know how to pronounce, and fewer still know what it means.
  
Would owning this luxurious leopard bag be an exercise in vainglory? Quite possibly. But there is no reason to hold back or be an ascetic about it. Whether you just got promoted to Senior Executive Vice President, or it's your birthday coming up – and to heck with it, you're going to do something daring, extravagant, and indulgent for once – this fine quality shoulder bag will be a luminous addition to your closet. You really have to love the texture and colors – gold, beige, blacks, warm yellows, brasses, even clay. And it's that fine detailing that, when taken in aggregate, sets this level of luxe shoulder bag apart from its chincier imitators. This is no bag for the subservient. It is a declaration – a manifesto, if you will, that you are anything but. Click the green link to indulge! Designer A-Z at mytheresa.com A Few Goody Gumdrops thanks Adam Harris for his fabulous critique of the Pucci Bag!
XOXO,