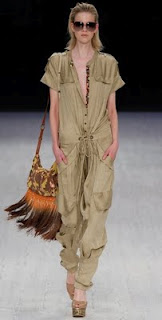 So Luscious, Exotic and Papaya Colored, You Almost Want To Take A Bite Out Of It!
Matthew Williamson's melodious chiffon weave bag – drenched in papaya color, adorned with antique brass hardware, and featuring sequined silk, chiffon detailing, and dip-dye fringe – should set your fashion palette to "mouth water." Fabulous day to evening bag and it's 30% off!
This England-made original comes with a 20-inch strap drop, satin lined interior with a zip pocket, zippered compartment closure, and knotted rope shoulder strap. But a lot of bags out that are well-made and use delectable materials, such as sequined silk, antique brass hardware, and chiffon detailing. This bag, though, is different in a hard-to-quantify way. Indeed, the challenge for this review is to draw a picture in your mind using only words to capture the sheer lusciousness and organic flowy, drapy, sexyness of this hangbag. (which is also somehow classical and a bit Old World inspired, btw).
I keep going back to the "fruit" metaphor – and not just because of the papaya coloration. There's something almost chewy about the different textures of this bag. It's at once mottled and knotted and smooth and flowy. One might imagine that the bag might belong to the wife of a great British explorer (perhaps "exploiter" would be a better word) circa 1876. You can see sort of an aristocratic British high society lady carrying this with her on a railcar through Sierra Leone or perhaps on safari to Kenya. If that makes any sense.
Maybe my impression is completely off-base here, but what really matters is that the bag does give a STRONG impression. That can be both a good and a bad thing. If the impression is not commensurate with your style, then obviously it's bad. But if you are searching for something curiously yonic, flowy — almost like a beautiful little lapdog that protects your belongings and requires zero walks a day — then check out this intricately embellished, exotic, and easily recognizable Matthew Williamson vision. Click the green link to indulge especially now that it's 30% off! Designer Bags & Purses
A Few Goody Gumdrops wishes to thank Adam Harris for his insightful vision, articulate comments and his quirky fashion sense!