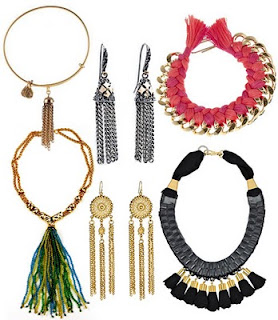 This season's jewelry trends is all about the vintage-modern look…aged-looking metals, raw-cut stones, boudoir-inspired pearls and stones…so it seems only fitting that accessories would look back and pay homage to one of the oldest forms of adornment in the western world…tassels! After all, it makes sense, given the fashion world's affinity for fringe in all forms, and tassel jewelry gives that extra light-reflective glint and shimmery movement that suede fringed moccasins simply can't capture! Of course, tassels may not be quite as unique nowadays as they were in eras past — but you may take comfort in the fact that designers no longer charge thousands of dollars for a single hand-made tassel, like they once did with the first ones ever fashioned!
Shine with a pair of tribal-inspired chain tassel earrings like these Ben-Amun Circle Filigree Earrings, or opt for a decidedly more edgy mixed-metal pair like these from Goldyn. To add a bit more color, try this dramatic beaded tassel necklace from Nicole Romano, or play with mixed textures like this 3.1 Phillip Lim Organza and Leather Necklace or this chain-and-thread bracelet by Aurelie Bidermann. And lastly, if you're a girl who tends to talk with your hands, a tassel-embellished bangle like this Alex and Ani Agean Bracelet will add a bit of subtle shine to your movements!
Need help for your holiday shopping? Download TheFind Mobile app for finding the best prices and selection for shopping on the go. TheFind mobile app makes you a smarter shopper.
XOXO,