Mistletoe Worthy Winter Uniform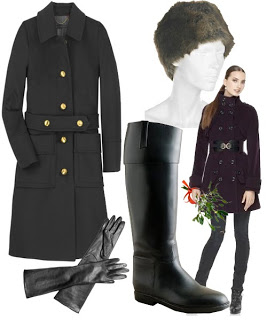 Snowy days can present a wardrobe challenge if you are not properly prepared. For me a combination of military coat plus waterproof dressage boots and cossack faux fur hat are my standard snowy day uniform. This tailored look works for city streets and a few handpicked snowy mountaintop occasions. It may not work for sub zero temps, but it works for most winter days. A cossack hat covers your ears, keeps your hair in place and you won't need to wear muffs. I own a cossack faux fur hat and I love how it adds a bit of cold weather whimsy and wintertime luxe to my look. Dressage boots are the real deal, worn by equestrians during their romps in the ring. French bootmaker Aigle's Dressage Rubber boots are sturdy and are made to slosh in the rain and mud. I picked up a pair of Aigle boots from Tal-Y-Tara, a local polo/dressage gear and tea shop here in San Francisco.
A military inspired coat adds a tailored appeal to this wintery 'uniform' and pairs perfectly with the dressage boots for a sleek look. Go long with this Marc by Marc Jacobs Wool-felt military coat. Or opt for a shorter belted version like this charming Latte by Coffee Shop Double Breasted Military Coat with Belt. Accessorize your winter Doctor Zhivago inspired look with the cossack fur hat and a pair of long lined leather gloves such as these from Alfani. You'll be glad you dressed up for the snow days ahead, you never know when you'll get caught under the mistletoe!
XOXO,