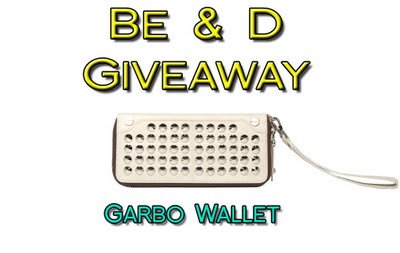 Look what we're giving away! We are so excited. One lucky reader will receive a to-die-for Garbo Studded Wallet in cream leather from "Be" Inthavong & Steve "D"umain and A Few Goody Gumdrops! You probably know them as Be & D!

The Garbo studded wallet is part of the very popular relaunched Garbo collection.This wallet features this season's hottest trend…studs. We love studs!!! The Garbo Wallet is beautifully designed and is a perfect option if you don't want to carry your handbag with you. The Garbo Wallet retails for $395 and is part of their Cruise-wear Collection.
Be & D's bags can be seen on a number of celebs and trend setters including Liv Tyler, Charlize Theron,Taylor Momsen, Blake Lively and Katy Perry… just to name a few.The Be & D collection is exceptionally made with premium leathers, exotic skins and custom hardware.
Last year we interviewed Be & D and now we're giving away this ever-so stylish and edgy studded Garbo wallet from their iconic Garbo Collection. Be & D's bags have a wide range of appeal. "We tend to love the side of woman that is a little bit bit punk and a little bit sexy with a fair amount of trust in her own taste."

To win this ultra-chic and trendy wallet, visit Be & D's site and tell us your favorite Be & D bag you'd love to carry the Garbo Wallet in. Follow @beandd on Twitter! You must subscribe to our RSS feed to enter the contest. Contest will run for one week. A Few Goody Gumdrops will pick the winner and Be & D will send the wallet directly to you. Please leave your email address so we can contact you if you're the lucky winner. We wish to thank Be & D for sponsoring this fabulous GIVEAWAY. Keep your fingers crossed!