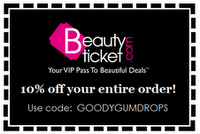 BeautyTicket.com
brings you premium beauty brands at unbelievably low prices — up to 85% off retail prices every day to be exact! How do they do this? Simple.When beauty companies and high-end retailers need to clear space for new promotions, seasonal items, new packaging, etc..Beauty Ticket purchases the surplus and passes the savings along to you.
(And nothing is better than department store
brands at drugstore prices!
Quantities are limited, and once a beautiful deal is gone, it's gone for good!
New
products
and brands are added each week,
so be sure to check back regularly for site updates.Don't forget to sign up for
BeautyTicket.com
email for advanced notifications of future steals you probably won't find anywhere else!
Beauty Ticket is giving our readers a 10% off coupon.The promo code is:GOODYGUMDROPS
Or, click this link:
beautyticket.com/index.aspx?dc=GOODYGUMDROPS
.
XOXO,