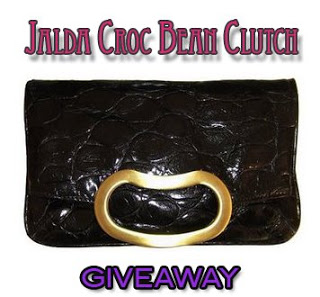 We are inviting our readers to participate in an amazing giveaway! We are so excited! One lucky reader will receive a to-die-for Jalda New Croc Bean Clutch in black.To win this oh-so fashionable clutch,visit Jalda's website and tell us which bag is your favorite! A Few Goody Gumdrops will pick the winner and Jalda will send the bag directly from her office to you. What we love about this bag is that it can be used as a foldover clutch or you can turn into a mini-tote when unfolded. The bag is made of Italian leather and is embossed with a croc design.The lining is ribbed satin and there is an invisible magnetic snap closure. The handle is brushed brass. This fabulous bag retails for $315.
So, go right over to Jalda's website, tell us your favorite bag and keep your fingers crossed. You could be the proud owner of one of the most exciting styles of the season! Jalda's bags can be seen on a number of celebs and are found in many high end boutiques and department stores across the country.
When did you launch your line of handbags and what inspired you to design handbags?
JALDA was created six years ago, when I first designed a line of luxurious, feminine computer bags. Up until then I was working in corporate America and as a business-woman, and I struggled to find that perfect, practical yet stylish computer tote. I always had a creative mind so I decided to give it a shot and came up with a line of my own made from colorful Italian leather bags that were a hit with women like me – dynamic, professional women with a passion for fashion. Soon after I was designing evening bags and clutches for friends, that were so popular that I added them to the line. Over time, these have have become my specialty: colorful, timeless, unique clutches made in the US out of the best Italian leather and hardware you can find.
You have a very unique style handbag.Is the fold over clutch with the bean handle your signature bag?
The Bean Clutch is definitely one of my two signature styles, along with the Original Clutch. I designed both styles a few years ago and they have been extremely popular ever since, so I never took them out of my collections, I just keep updating them. I have made them in Croc, Python, Lamb, Stingray, Anaconda, Patent etc…The Bean Clutch is quite special as it can unfold into a mini-tote. The bean-shaped handle gives it an edge and a retro feel that women across the globe love.
How did you come up with this design?
It actually started with the handle! I found it at my hardware supplier in Italy, and loved it. The design of the bag popped into my head right away after that. That's how it usually works: something inspires me – in this case the handle – and the rest kind of comes to me. I find that the bags that come to me the easiest and that don't run into many glitches in the sampling process work the best. I love simplicity, and I believe that things have to "flow" – in life general as well as in the design process. Anything that you have to battle with too much probably isn't mean to be!
Do your bags follow fashion trends? For example: If oversized clutches are in will you follow that trend ? If metallics are in will you follow that trend?
The main influence in every bag I ever designed was always my own personal taste. I do not tend to follow trends per se, as I think designers should have no limits or restrictions, they should feel free to explore new ideas and concepts no matter what other people are saying. Following a trend would essentially mean not following my heart. However, there is absolutely a subconscious influence as every year, there are elements in my new collections that fit some of the trends described in magazines. For example, when XL clutches became popular, I had just added the Eden Clutch to my collection, same thing for the purple trend, the metallics trend… Basically, I feel you should either start a trend, or let trends inspire you, not control or limit you.

Are your bags made in the United States? If so,does the give you more control over the outcome? If not, where are they made?
Yes, we pride ourselves on being one of the very few American designers who have kept their production in the US. All our bags and accessories are made in Los Angeles, which not only guarantees a high level of quality, but also means that we can have a close relationship with our manufacturers and have more control over production in general. The factories we work with are truly our partners, and being so close to them allows us to constantly work on new designs, and be flexible with our production and deliveries.
What kinds of leathers do you use? Do you use exotic skins? Do you use a variety of textures?
I use fine Italian leathers such as lamb, patent or goat as they make classic bags but with the highest quality leather that our customers recognize and appreciate. And of course our Italian embossed leathers are a staple for us, something I started with and that I will probably never stop as the demand has never decreased! I also love exotic skins and use them a lot as they are perfect for evening bags. They are so luxurious and special that they add an extra level of quality that is reflected in the price, but that's so worth it! Python and Stingray are all-time favorites, but Eel and Ostrich Leg are exciting as well.

What type of woman uses your bag? What age group?
I have never thought of my customers as a homogenous group of women, more of a type of woman: she is dynamic, likes to be unique, has a love for fashion, and spends money on it! Consequently my bags can be carried by a college student going to a party, a 50-year old socialite attending a luncheon, or a celebrity on the red carpet. I have met fans of the JALDA line who saved up for months for a small clutch, to celebrities who bought them in several colors at once….
What's it like when you see someone using one of your bags?
This is always very flattering when I see one of my designs on a stranger on the street or a celebrity in a magazine. What I do is very much a business, and most of the time that's how I perceive what I do every day: I'm running a business where I deal with finances, production, sales, marketing, personnel. When I see someone with my bag it makes me stop and remember of why I do this and why it's successful: lots of people are buying the product! I love the thought that this woman liked this bag so much that she spent hundreds of dollars on it, and it all just started with an idea in my head. It's the best!

Are your bags easy to use?
When I design a new bag, I always keep three things in mind: style, comfort and practicality. If I am not sure about one particular bag, I carry it for a couple of weeks myself and then make the necessary changes to make it more practical. All JALDA handbags have multiple interior pockets for cell phone, keys etc… JALDA bags are carried by modern women who work, travel and have hectic lives, so I like to create bags that fit those women's lifestyles. My customers are just like me, and I can't stand things that don't work!

Where do you see yourself in five years?
In five years I hope that the business has continued to grow, and that I can be in a place where the brand is so established that I can add different product categories that all follow the same principal of quality, simplicity and uniqueness of the JALDA brand. I'd love to add shoes, clothing and home products such as glasses, plates, linens etc.
Would you like to open a Jalda Boutique?
This is not something I am considering at the moment because I am very happy with the quality of the stores that carry my bags. We are lucky enough to work with the very best department stores worldwide so I feel that opening a JALDA boutique is not necessary. Furthermore it is a whole different business model that does not fit in my operations at this time. In several years when the brand is a household name, I envision it making sense to invest in a retail division, but for now just selling directly to stores is keeping us more than busy!

What do you like most about your job?
I come from a corporate background and have a business education, so I love that this is very much a business, and that I have to deal with ALL aspects of that – it satisfies my intellectual side. And I love the "get it done" nature of the business: things have to be designed, made, sold, shipped – that satisfies my practical, hands-on side. And of course I really love that my product is based on my being able to let my creative juices run free and create objects that people find beautiful and absolutely want to have. In a way fashion is a superficial business, but at the same time it's a "happy" one – people buy the product because they love it and owning it makes them happy. And the money that generates goes to creating jobs and allowing myself and my employees and subcontractors to pay the rent, eat, go on vacation, and of course: buy handbags!
A Few Goody Gumdrops wishes to thank Jalda for sponsoring our Giveaway! Contest will run til April 16th. Please leave your email address so we can contact you if you are the lucky winner. Good Luck!