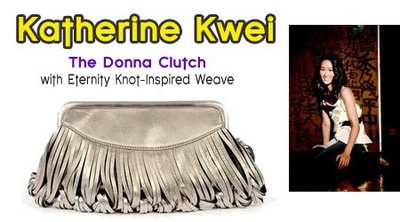 1.When did you launch your first line of handbags and what inspired you?
I launched my line for SS07 in the fall of 2006. I have always wanted to own my own company and fell in love with handbags when I working at Louis Vuitton.
2.You have a very unique style handbag.Is the Eternity knot-inspired weave your signature?
Yes, the Chinese eternity-knot INSPIRED weave that I do is my signature. I started with the Zara & Donna line knot weave when I was in design school at the London College of Fashion, and you can see these bags in my final collection which was shown at the school's catwalk show when I attained my Masters Degree. The Teresa & Kayla knot weave, and the Stella & Bela knot weaves are newer knotting designs. We are always trying to develop new knot weaves and have also added the Joyce, Roxy and Kate lines recently.
3.What inspired this design?
The Zara and Donna knot weave was inspired, like all my knot weaves by the Chinese eternity knot. My grandmother was a seamstress for Katharine Hepburn and also had her own line of necklaces that she made using silk cord and semi precious stones. She taught me how these were made and thus my fascination and love to create my own version into bag grew.
4. What did you do before you designed your own line of handbags?
Before I started my own line, I tried many professions. I was an Environmental Science major in college and loved being outdoors in camping and hiking expeditions. When I left college I was in 'finance' mostly as an analyst for investment banking firm. I was not very good at the 'numbers' profession and got my 'fashion' break when I joined a company in Hong Kong doing private events and PR. My boss of this company went to Louis Vuitton and brought me with him, and thus that is how I got into fashion and handbags. When I decided to start my own company, I left Louis Vuitton and enrolled into the London College of Fashion for accessories design and finally graduated with my Masters Degree in 2005.
5.I understand you have a growing list of celebrities toting your bags around town. How does this make you feel and who are the celebs?
I am always very excited when we spot celebrities with our bags! It is really such an honour! Eva Longoria was the first celeb we spotted carrying our bag and we were just over the moon. Since then, we have had Jennifer Lopez, Blake Lively, Taylor Momsen, Eva Mendes, Maria Menounos, and Olivia Palermo to name a few.
6.How excited do you get when you see someone carrying one of your bags?
Actually I have never seen anyone except my friends carrying my bags, although my friends see tons of people carrying my bags. I must not go out enough… In any case, I love it when my friends carry my bags. Sometimes I am embarrassed but it's only because I am quite shy and feel very touched and honoured that they would carry my bags when they have so many other choices.
7.What is new for this season?
We are showing our AW09 line now and we have a new batik print and 'pop' line which using mirrored skins for a super chic bag line. For SS09 we added the Alixi line which is plastic jelly and lambskin bags that are perfect for the beach. We have the ROXY line which is a super adorable 'hipster' line with perforated lambskin. For our Edna line, we did this in canvas and lambskin, which brought the price point down a but, while sticking true to our classic shape and signature knot weave.
8.What are some of the exotic skins that you use?
We don't use 'exotic' skins but do use 'real' water snake which is not endangered. We did use 'embossed' ostrich on sheep skin for our Isabel and Donna line for SS09 which was got a very good response. I prefer not to use endangered skins.
9.I love your Donna and Donna Diamond line. What is your favorite line in your collection?
I don't have a 'favourite' line but do wind up using the Edna bags mostly during the day time, as the styles are more tote styles and good for carrying files. I use the Donna and Isabel lines mostly for evening bags.
10.I know you design alot of evening bags. Do you design bags for everyday?
Yes, we have lots of everyday bags. The Edna Tote is my favourite for the day, as well as the Donna Tote and Satchel (depending on how much stuff I am carrying). The Bela line is also great for daytime use, and the Alixi Bucket is perfect for when you go on vacation and need a beach tote.
11.Have you been the recipient of any awards?
Yes, I won the award for Best Designer at the Independent Handbag Designer Award and we won the Speciality Business Plan award the a business plan competition at the Harvard Business School. We were runner up at the latest IDA 2008 awards for best Handbag designer.
12.Do you hope to open your own boutique in the future?
We are so happy and lucky with our existing department stores and boutiques that I am not sure if we will need to have our own boutique. Maybe very far down the line (i.e. 10 years from now)… But for now, we are doing well with our stores and are thrilled to be working with them.
13. Are your bags carried in any luxury department stores?
Yes,we are at Saks in New York city and in Beverly Hills. We are also on  Neiman Marcus. We will be selling our AW09 bags in Fred Segel, Kitson and the gift stores in the Bellagio Hotel in Las Vegas.
14.What are your favorite blogs?
I must admit I don't read too many blogs, but I of course love A Few Goody Gumdrops, Style Bubble and Business of Fashion.
A Few Goody Gumdrops wishes to thank Katherine for her interview and wishes her much success!