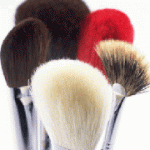 A Few Goody Gumdrops loves Shu Uemura's makeup tools! We recently purchased the Natural make-up brush set and love our cheekbones! Shu Uemura has three brush sets for optimum makeup application of the face, cheek, eye, brow and lips. Shu Uemura's brushes are in three categories based on hair quality and desired finish: Synthetic, Natural and Kolinsky. To achieve your desired look you must own one of these brush sets. Too many of us try to use one or two brushes for everything. Shu Uemura's brushes are designed to give you the most dramatic effects when using the right brushes! A great brush set is a one time investment!
Synthetic: Very smooth and soft on the face.Soft layering of powder color or application of cream color or concealer.Great for beginner makeup brush users.
Natural: Various types of natural materials: Squirrel, Badger and Pony. Layering of color with a variety of touches – from very soft (Squirrel) to firm (Badger) Great for all makeup brush users.
XOXO,