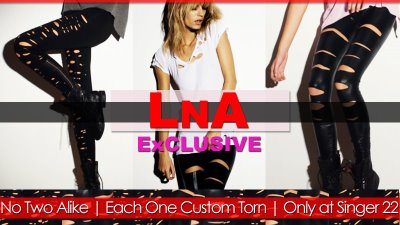 A Few Goody Gumdrops and Singer 22 are inviting our readers to participate in an amazing GIVEAWAY. One lucky reader will receive a pair of funky LnA leggings in Noir. A Few Goody Gumdrops loves this shredded Spring Style Trend from LnA exclusively at Singer 22. The look is edgy, very trendy and definitely daring.We also love the moto-chic boots with the ripped leggings. Singer 22 tells us, these pieces are hand torn and no two are alike. There has been a great fascination this year with torn clothing as it definitely has a very cool look and appeal. You can Shop LnA's trendy new look on Singer22 at A Few Goody Gumdrops. If you are torn up over these leggings, then this GIVEAWAY is for you!
To win these oh-so fashionable leggings, visit Singer 22's website www.singer22.com and tell us what accessories you would wear with these leggings for a haute look! A Few Goody Gumdrops will pick the winner and Singer 22 will send the leggings directly from their office to you. So, go right over to Singer22's website and accessorize these leggings. You could be the winner of these new LnA leggings.
Singer22 is one of the fashion industry's leading retailers with top brands worn by today's biggest celebrities such as Nicole Richie, Ashley Olsen, Paris Hilton, Katie Holmes, Lindsay Lohan and Angelina Jolie just to name a few. Singer22 has evolved into one of the fashion industry's leading retailers and source for the latest in fashion trends. Husband and wife team, Alicia & Jonathan Singer created this truly cutting edge and unique website which has gained tremendous notoriety since it was first launched. One of our favorite shopping sites! The Giveaway will run til 3/22/09. Please leaveyour email so if you are the winner we can contact you. Good Luck!