Steve Dumain & Be Inthavong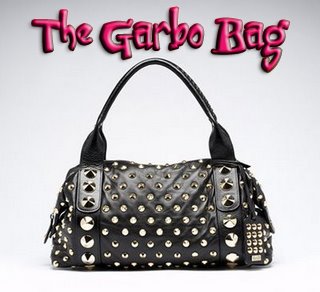 1.What does Be and D stand for?
"Be" Inthavong and Steve "D"umain. Be & S sounded too much like Bull*&@! – and there is enough of that in the world!
2.I think you have an amazing collection of bags.The Garbo bag is great.When did you originally launch the Garbo bag?
It was one of our first bags – we launched it for our first collection – Fall 2004. Bergdorf Goodman was the first store that carried Be & D


3. Why did you discontinue the Garbo bag?
Because it received so much attention due to celebrities buying them – there was a flood of look-alikes and we felt our creative souls needed something else to move on to and discover.Immediately after the Garbo we had another very iconic piece for us called the Crawford Hobo. Since them we've launched an entire ruffle-punk collection starting with the Tuxedo bag and then onto the Kan Kan group. Now we feel very comfortable owning the creation of these and having them as staples in our collection now that the brand has matured and people know who we are more.

4.What inspired you to do the re-launch the iconic Garbo Bag?
Our 5 year anniversary was the perfect time – it just felt so right. It relaunched itself in a way. Buyers started asking for it again and we recreated it to a place where we were both thrilled with its new modern luxe look and feel.

5.Are the Garbo belts new to the line?
Yes – we wanted a way for a woman to be hands-free and just wear the simplest of clothing – but just throw a belt on to take an outfit way up a notch. It totally works in a piece like this.
6.What age group is the Garbo bag geared to?
Like any kind of art or music or fashion, taste is a mindset – especially when it's made by hand. We notice that our customers really are anywhere from 18-88 – it just depends if they can find a way to get their hands on it – and bring it home.

7.What age group are you bags generally geared to?
They range – but we notice that the best bags really don't have a specific age – they just appeal to women or a certain mindset. We tend to love the side of woman that is a little bit bit punk and a little bit sexy with a fair amount of trust in her own taste.

8.Do you both collaborate on each design? If so, do you usually agree? Who wins?
Yes we collaborate on each design. We both win in the end – because we fight to the finish with each design. That's often what people around us think makes for the best products.
9.What part of the bags expresses your individuality?
The attention to inside details and how we find little secret ways to make every bag as functional as they are sculptural.

10. Do you use exotic skins?
Every season we use various exotics. We've worked a lot with python, anaconda, eel-skin, lizard and of course some alligator and crocodile. It's wonderful to learn the different ways of using different skins and how they express so many different styles to a certain silhouette.

11. How excited do you get when you see someone using one of your bags?
It's like Christmas morning when you were a kid – you're so excited and almost don't believe it's for real…..for me anyways – Be is Buddhist, so I imagine he has a totally different emotion. I do remember the first time he called me and said he'd seen a woman in downtown NYC wearing one of our bags. He was so excited and I was asking all about what she was like. Then we heard news about some celebrities who had bought our bags and then we started to see pictures. It was a nice way to see women reacting to pieces we made.

12. Are the studs on the bags your trademark? How did you come up with idea of using studs?
We were feeling a fun moment in life and these were a reflection of that. We're both punks deep down and have a giant taste for finer things – such as quality leathers – so there you have the Garbo.
13. Is any celebrity known for carrying any specific bag in the line? Anybody special you would like to see carrying one of your bags?
So many women carried the original Garbo:Penelope Cruz, Mena Suvari, Britney Spears (god love her!), Lindsey Lohan, Venus & Serena Williams, etc. Then the Crawford was first spotted on Charlize Theron, then Elle Macpherson. Already we've seen the new Garbo on Taylor Momsen from Gossip Girls and Daisy Lowe. Kate Moss ordered one as well!
14.I understand your bags are made in New York. Does that give you more control in the outcome?
We started making our bags right in our own NY atelier. We've done some in Italy, but we found that having complete control over each piece helps us make them superior. We need to be in the factory – grading the leathers, working with the sewers, and making sure each piece is specially made. Our shoes are made in Tuscany – because it's still very hard to make a great shoe in smaller quantities anywhere but Italy. We're one of the few companies still making luxury leather goods in NY. Many designers still make their clothing here – but we want to bring the classic concept of a French or Italian atelier back to America. We train each person in our factory from scratch in order to get the quality and subtle style we need.
15. Do you eventually want to open your own boutique? Where would the first one be?
Yes – NYC– just like us. We want to be close to our first store and spend time with our customers.

16.Where are your bags carried?
Nationally in Saks Fifth Avenue, Neiman Marcus, Intermix, and the finest luxury specialty stores in the US and around the world. For your local Boston readers we are also sold at Gretta Luxe!
17.Do you ever make custom bags?
Yes, for certain private clients.
18. Are all your bags named after someone? What are the some of the names of your bags?
Our bags are named to signify confidence and style and the words and places that exemplify that. The Kan Kan is actually named after Be's grandmother. The Cosette named after the French character.

19. Have you added any other accessories to the line?
Wallets, keychains and cardholders!
A Few Goody Gumdrops thanks Be & D for this fabulous interview and wishes them much success with the re-launch of the Garbo Bag!