Every fashionista knows that Giuseppe Zanotti creates quality products that are fun and effervescent. But are these colorful statement pieces – GZ's Embroidered Suede Backpack, 20 mm Suede Floral Embroidered Sneakers, and 110 mm Metallic Patent Leather Sandals – worth the investment? How much is "fashion fun" really worth? These profound questions are a bit stultifying. So let's put them on the back burner for now and just gawk at the specs!
 Embroidered Suede Backpack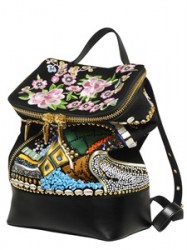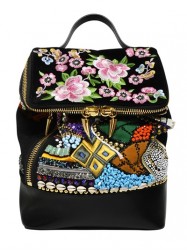 Our first stop is the
Embroidered Suede Backpack
, an incandescent patchwork of floral patterns, diamonds, seashell inspired adornments, and other baroque elements. This Italian made backpack features gold-colored metal hardware, a two-way zip closure, an adjustable strap, and a front panel embroidered with all manner of shells, beads, and rhinestones in an eye-pleasing medley of colors. This bag is a little beam of sunshine captured in a nifty leather package.
 110 mm Metallic Patent Leather Sandals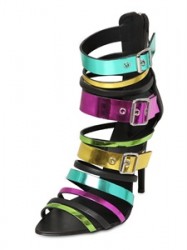 Next on the docket: GZ's 110 mm Metallic Patent Leather Sandals. Italian made and designed from 100% calfskin, these sandals are sexy and then some. Multicolored metallic leather straps alternate with empty space, creating a visual ladder that leads from the toe up to the heel and on to the calf. These are serious heels, so "the faint of foot" should beware. The luscious day glow strap colors will draw attention to your lower half, so you better be prepared to strut your stuff when you wear these out to a cocktail party or fancy business event.
20 mm Suede Floral Embroidered Sneakers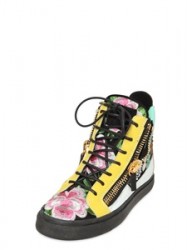 Last on the list, we have Giuseppe Zanotti's 20 mm Suede Floral Embroidered Sneakers. These suede floral embroidered sneakers feature lots of cool floral embroidery and shell and bead appliqués, like the backpack does. If you're worried that you'll look like an anime character (with all the color and playful excitement), fear not. These sneakers aren't just girlish treats: they are sexy (and appropriate) on older woman as well. Also 100% calfskin and Italian made!
Adding color floral elements and playfulness to your wardrobe can lift your spirits and help others see you in a new light. Explore these Giuseppe Zanotti fashion confections today and celebrate spring a few months early this year! Click the link to indulge!