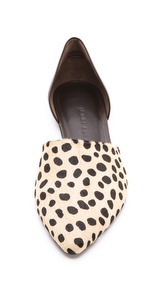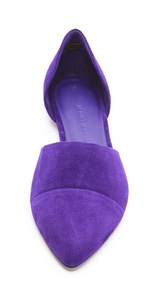 Just a few days ago I had the pleasure of stopping in Jenni Kayne's namesake store. I loved the clean understated look, the simplicity and feel of the boutique…very appealing. I fell in love with two pair of pointed flats. (featured above) My Roger Vivier pony flats (which were on my feet) were totally shedding/shredding  with a gash in the sole. Kayne's shoes by comparison were just as cool and less expensive although still not cheap. The best…they made my feet look slender. The round-toed Vivier flats with the big gold pilgrim buckle which I adore were starting to look gloppy on my feet and stretching sideways.
I was in no position to go barefoot, my flats were a mess and how could I turn down anything leopard? I even decided to "step out of the box" and buy the bright purple suede pair, as well. They were totally cool on this adorable sales girl who had them on with jeans and a great blazer. They didn't match anything…they just looked great. Problem is when ever I get anything with color it sits in my closet. I'm going to make a real effort to wear these cuz I love them with leggings and jeans.
Jenni Kayne's d'Orsay flats feature printed haircalf, a smooth leather heel cap and a leather sole. There are endless wardrobe possibilities with these adorable flats. There are also endless choices of Kanye's d'Orsay flats in materials and colors. Click the link to indulge Jenni Kayne.