Pin It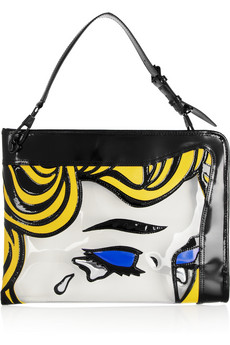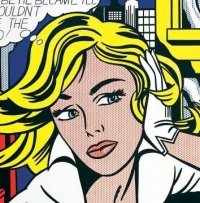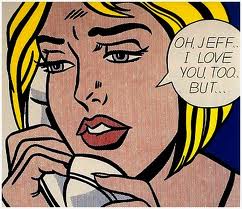 Breaking up is hard to do – don't ever forget it.
That's the Technicolor message emanating from this gorgeous Pop Art Applique PVC and Leather Bag by Phillip Lim. Roy Lichtenstein would be proud of the playful, yet emotional characterization of the sad, beautiful lass depicted in bold yellows and tear-choked blues. We've all heard about how dangerous it can be "wear your heart on your sleeve." But nobody says you shouldn't wear your heart on your shoulder — in the form of a fun, quirky handbag — or have they. In any event… the black patent leather trim bag features a detachable shoulder strap, zip fastener, and super sturdy stitching and construction. Phillip Lim's fashionistas recommend paring this bag with a monochrome outfit to highlight the big emotional blues and yellows.
Why Carry Memories of Tears?
Given how painful breakups can be – even breakups that happened years ago can still cause us to emotionally flinch when we recall them – why would any sane woman want to carry around a visceral reminder of the heartache of unrequited love? The answer probably has to do with our deep psychological need for confronting and naming our fears. We do this all the time in our culture. What do you think Halloween is all about, after all? We dress up as our bugbears – ghosts, ghouls, villains of the day – as a form of expiation. We need to name our fears – show them that we see them – in order to rob them of their power, so that we can live happy and free.
Using Pain as a Way to Connect to Ourselves and Others
When you look at the woman sobbing on this bag, you realize that breaking up – and heartbreak in general – is a universal human phenomenon. Instead of leading you to feel isolated and alone, the picture helps you feel part of something bigger — to embrace the simultaneous sadness and beauty that comes with leading a life where you dare to feel and share your biggest emotions. Click the link to indulge!