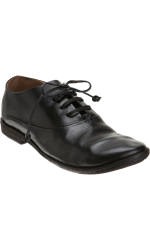 Hobo chic – as cataloged in author John Hodgman's brilliant fake almanac, The Areas of My Expertise – requires close attention to detail with respect to your footwear. Enter these Marsell Distressed Lace-Ups. These slightly distressed calfskin leather round toe shoes – Italian made with tonal leather laces – look pretty "normal" in the abstract. But imagine them adorning the feet of that iconic ceramic hobo (you know the one, with the schleppy brown suit). Alternatively, picture them on the feet of your favorite creepy-but-cool rockster hipster from Greenpoint (in Brooklyn) or perhaps the front man of next year's Arcade Fire.
Or perhaps you'd find them on the feet of that super quirky artsy girl from your high school, who somehow earned hundreds of thousands of dollars on the internet hawking weird niche crafts on Etsy. Of course, these shoes won't necessarily type cast you. They just boast a lot of personality. That can be a bad thing, if you want to blend in with the crowd, or if you want to avoid appearing conspicuously quirky. But it can also be a good thing: and let's not forget, there's always the comfort factor.
Just imagine how your feet will feel: how cozy, squeezy and plush the shoes will feel. Especially for women, who spend a tragic amount of time in uncomfortable fitting footwear – which can tragically lead to foot and ankle and joint problems – an escape into these comfy shoes can be a respite-and-a-half, indeed. Our fashion choices are complex. They are influenced by social norms, how we want to appear to others, and by our own idiosyncratic aesthetic/medical/comfort needs. These distressed lace ups are simply not for everyone. But there are people who love them. Will you soon count yourself among their ranks?  If so…. click the link to indulge!