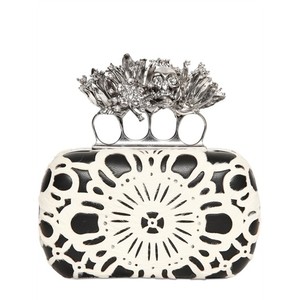 Alexander Mcqueen's Leather Short Knucklebox Clutch is totally cool. The bag works with practically everything I have. (remember my wardrobe is totally black, gray or white) Every year I long to own one bag that is totally out of "the box". This is definitely that bag!
It's iconic style, metal rings for your kunckles, skull embellishments and black and white pattern make this bag edgier than most and the one to own this season. What I love about McQueen's clutch is…it's hardly your typical bag. There are so many kooky things happening on this bag and they all work. For some reason….as I get older I'm enjoying more edgy fashion-forward pieces.
Here's how I'd style the Knucklebox Clutch. First I need to stop eating so I can fit into my dress! I'm (hopefully) wearing a simple black sleeveless Jil Sander short dress with black patent leather Manolo's to a wedding this summer.
This is the perfect bag to add a funky look to a rather classic (and dull) outfit. I'm loving the juxtaposition between the classic look (the dress) and the rocker chic look.(the bag) My Poppy Queen black lip gloss will definitely complete the look.
The bag is carried with your your fingers (excluding the thumb) placed through the silver rings. Polished nails are a must! For a totally
trendy mix paint your nails black and white, alternating the two colors to match the Calfskin leather and pony skin embroidery design. The skull and crystal detailing make this bag a total knockout! Click the link to indulge your inner funky side!