Pin It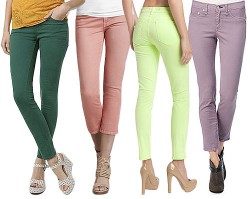 Colored skinny jeans were everyone's go-to spring staple, back when the weather was still mild enough for full-length denim, but now that those breezy summer days are turning into hot summer afternoons, it's time to rethink and revise that wardrobe. Don't worry – skinny, colorful pants are still totally in for the warmer days ahead – but with a more summery update in the form of lightweight, stretchy twill. When shorts or a miniskirt just won't cut it, skinny twill pants provide coverage without making you a break a sweat – they're breathable and flexible so you can still kick back and unwind this summer, staying stylish while you keep cool.
Stock up on plenty of fun, bright colors for the season ahead, or make an even bolder statement with a printed pair! A Few Goody Gumdrops wishes to thank TheFind for their absolutely "twilling" post!
From left to right: Urban Outfitters BDG Twill Cigarette Pant For All Mankind Cropped Skinny Twill Pants, J Brand Skinny Stretch Twill Pants, and Rag & Bone Zipper Capri.