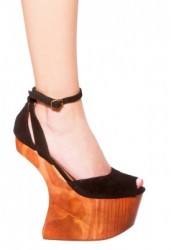 At first glance I thought this was a joke.There's no heel on the shoe. (WTF????) Then I realized this is for the fashionista who wants to test her balance in a bar after a few drinks.This ankle breaker is beyond awkward looking. Campbell's Peep Toe will definitely not be flying off the shelves rather you may be flying on the floor.That's "fashion-forward" for ya!
What was Jeffrey Campbell thinking….How to look foolish? Has he ever tried walking in his own shoes? Campbell's Peep-toe Wedge Sandal features an ankle strap and wooden platform sole with a 7″ invisible heel! Do you pair with an invisible skirt? Thankfully there is an ankle strap so when you trip and fall the shoe is still on! These are not trendy or edgy…they're just awkward looking.
However, if you'd like to add these to your wardrobe click the link to indulge. Be sure to check out Campbell's other trendy selections. His shoes remind us of Camilla Skovgaard's very edgy and weird style shoes.