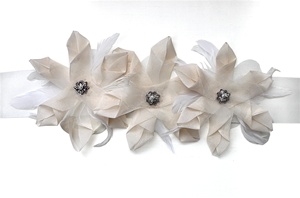 We are so excited about this amazing
GIVEAWAY
! One lucky reader will receive a to-die-for Annabella sash from a.b. Ellie.This sash is ecru color and features three whimsical flowers of silk, organza, tulle, feathers and jewelled medallions set on a 2″ silk satin ribbon. Ellie's sashes are individually sewn to be unique. They only use the finest silk, velvet, lace, organza, pearls, and crystals to create these ever-so elegant pieces.
If you follow bridal trends, you're aware that sashes are today's must haves for the modern bride besides the the sizeable sparkling diamond! a.b. Ellie, based in Minnesota is at the forefront of this frenzy offering their line of stunning sashes that won't leave you "fit-to-be-tied". Whether you want to add a personal touch to a vintage gown, or "bling" to your designer dress, a.b. Ellie offers a variety of styles, and custom options to satisfy your taste. Go beyond the dress!
To enter to win this fabulous bridal sash you will need to Subscribe to A Few Goody Gumdrops by email and leave a comment on this post using the email address you used to subscribe. Tell us how you'd wear the Annabella sash! You must follow a.b. Ellie on twitter or "like" them on Facebook. You will also need to "like" A Few Goody Gumdrops on Facebook. The lucky winner has 48 hours to respond and will only be chosen if you have subscribed to A Few Goody Gumdrops newsletter, followed a.b. Ellie on Twitter and liked AFGG on Facebook. If no response is given within 48 hours of being emailed another winner will be selected. The contest is open to US residents only. AFGG will select the winner and a.b. Ellie will send the sash directly to the winner.The contest will end on 5/8/2011. A Few Goody Gumdrops wishes to thank a.b. Ellie for sponsoring this fabulous giveaway! Whether it's for your wedding day or a special evening…the Annabella sash will make you look simply elegant!