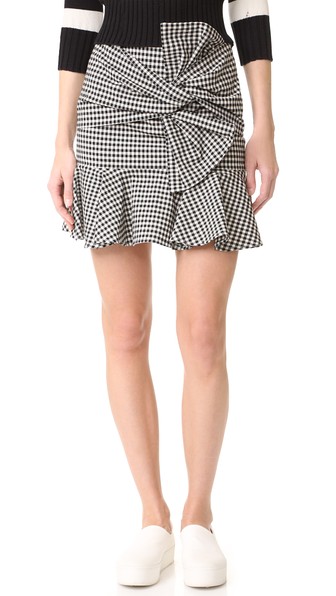 There's a new sale right here! It called SALE on Sale!!
Take an additional 25% off items already on sale!
The SALE starts today at 7:30 AM and ends 6/16/17 11:59 PM. Yup, you read it right here. Make sure to tell all your friends about this incredible sale! There are no brand exclusions in this sale and no minimum requirement for the discount. Doesn't get any better than this for items you've wanted to purchase all season. Some of my favorite brands on sale Tibi, Veronica Beard, Hanky Panky, English Factory, Sam Edelman, Holy Caftan and more! My favorite item is the gingham skirt featured above. I'm obsessing over this Veronica Beard floral print silk off the shoulder top. The orange Flynn blouse is pretty cool, too! There are so many incredible items to shop! I've already added Veronica Beards Skyline Combo Sleeve Army Jacket is amazing! Loving the military inspired look. Click the purple links to indulge! When purchasing sale items use the code SCORE17. I've been eyeing Helmut Lang's Tuxedo Jacket. So excited its part of the SALE! Time to get out your credit card and start placing items in your shopping cart!