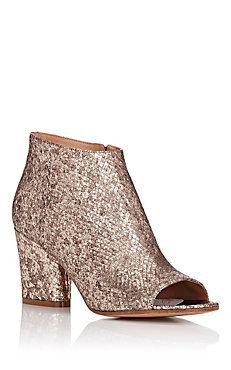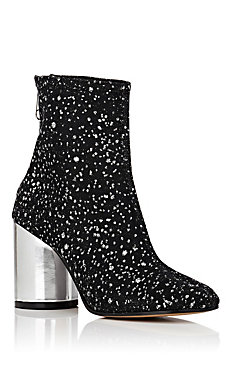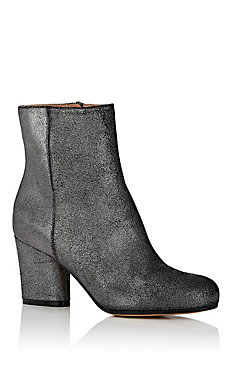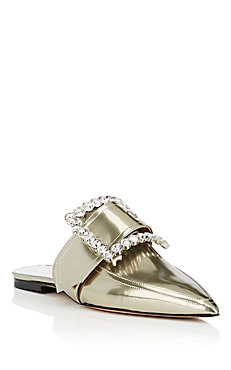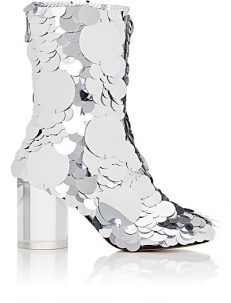 Maison Margiela has mastered deconstruction and over-the-top showmanship as a prominent fashion house in Paris. Today, Belgian designer Martin Margiela has outdone himself with never-before-seen fashion risks – and we can't get enough of them. Take a look at three of the most exciting styles in the latest line, which delivers loads of sparkle, shine, and shimmer.
Gold Metallic Open-Toe Ankle Boots
Maison Margiela has given us a whole new way to look at leather – a golden, shimmering, snakeskin-stamped way. These eye-catching kicks feature a side zip, open toe, smooth leather lining, and the signature white basting stitch at the back.
These beauties were made in Italy and will become your new go-to boots for nights on the town (or for dreamy date nights). Black double-layered mesh ankle boots are accented with silver glitter and styled impeccably with a silver Specchio leather-covered cylindrical heel. What more could a girl want? If you're looking for a something a little tamer try the metallized suede side zipper boots.
Paillette-Embellished Metallic Ankle Boots
And for the grand finale – the paillette-embellished leather ankle boots. We promise these boots will outshine anything else in your shoe closet this season. Made with silver metallic leather and embellished with mixed-size silver paillettes, these boots are a walking dream. Finished off with the Cinderella-esque clear acrylic glass block heel, you'll never want to take off these stunners. We can't forget the luxurious gold mules with the oversized crystal buckle! Oh yeah!!! Be sure and click the purple links or the actual images to indulge!