Pin It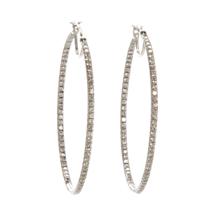 While gazing in respectful awe at Cathy Waterman's new pave diamond hoop earrings – adorned with little more than a simple hook closure – one almost feels transported, as if by Stargate, to the new planet astronomers recently discovered 25 light years from Earth that's composed of mostly diamond by mass.
You read that right: there may be a whole planet – or even an entire class of planets! – made up of primarily diamond! Scientists don't believe that any life exists on that planet, although perhaps there are "Bling-ons" living there, who manage to make due, despite the 3000 degree surface temperature. In any event, that's kind of far afield, so to speak. We're here to talk about these pave diamond hoop earrings: resplendent, shimmering, luxe objects, ideally suited both for work and play.
The earrings feature a simple, elongated structure. On the right woman – in the right context – these hoops will absolutely make you glow. For instance, you might consider wearing these diamond hoop earnings in the following contexts:
•    You've just sold your internet fashion consultancy for six figures, and you're going out to celebrate with colleagues at a gala dinner in your honor at the city's best restaurant;
•    You finally met the man of your dreams (fingers crossed) — he just so happens to be a fabulously wealthy investor in Middle Eastern securities — and you want to "wow" him at an upcoming charity fund raiser. These earrings = perfect.
•    You're going to some ho-hum work function — perhaps a sales conference out of town — and you want to spice things up by adding a dollop of  GLAMOROUSNESS to your normal outfit;
•    You and your girlfriends are tired of being cooped up at home with the kids. You want to go wild for a night. After all, you've already spent close to the price of these earrings for babysitting services, so why not let loose and get a little crazy?
The moral is this: if you're looking for well-crafted, simple and elegant hoop diamond earrings, the choice is (glitteringly) crystal clear. Click the link to indulge….Betsy, are you clicking?